JOIN THE FIGHT!
Upper St. Clair Democratic Committee
Next Upper St. Clair Democratic Committee Meeting – Wednesday, Sept 29, 2021, 7 pm – Old Rec Building
For Everyone's Safety, Please Wear a Mask at the Meeting.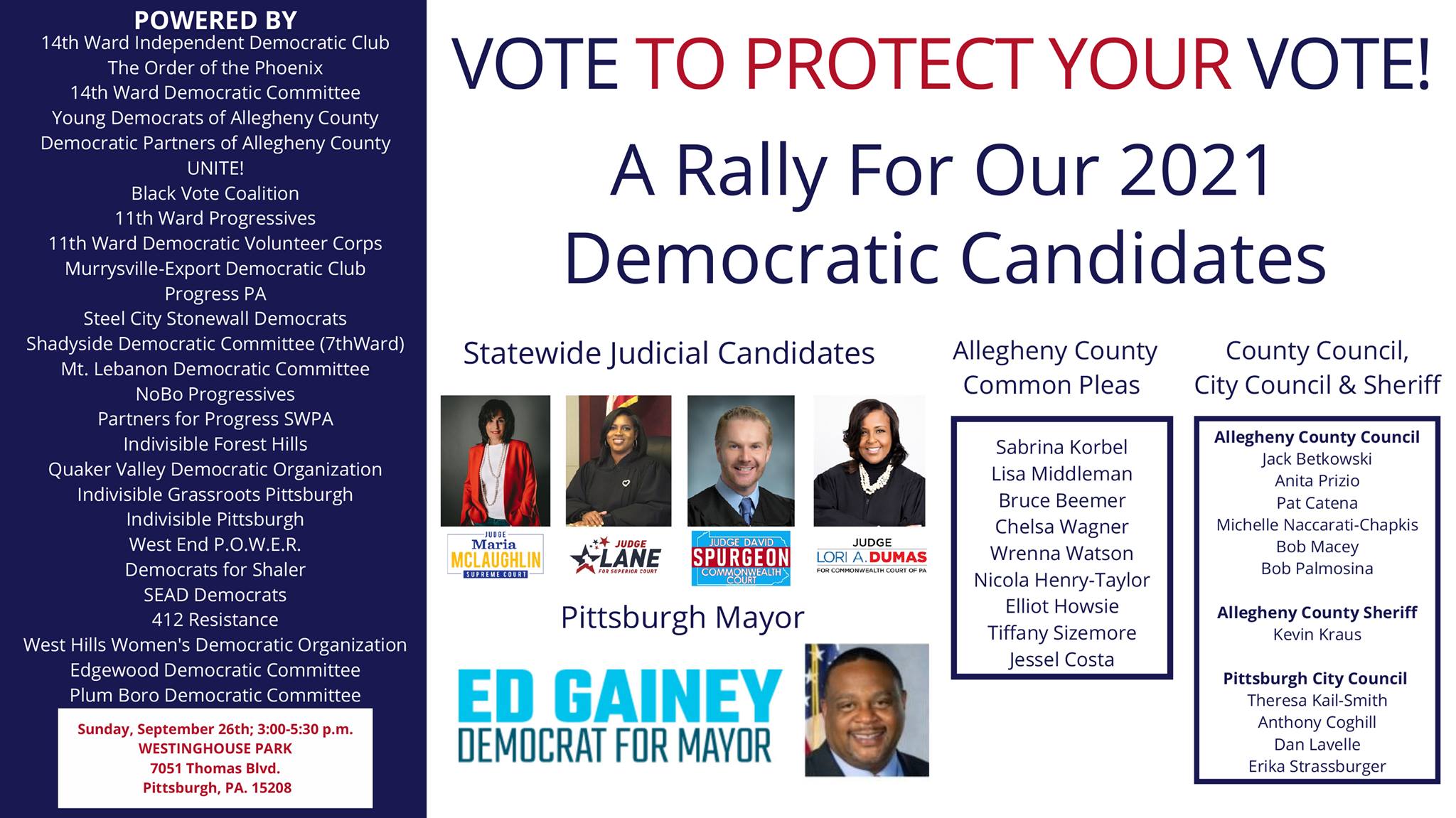 THE HILL: Pennsylvania GOP authorizes subpoenas for 2020 voters' personal information
ACTION NEEDED: Please read the article below and call Devlin Robinson's office:  
Pittsburgh
1700 North Highland Rd
Suite 307
Pittsburgh, PA 15241
Phone: 412-785-3070
Capitol
Senate Box 203037
460 Main Capitol Building
Harrisburg, PA 17120-3037
Phone: 717-787-5839
Fax: 717-783-3156
Pennsylvania GOP authorizes subpoenas for 2020 voters' personal information
Republicans in the Pennsylvania state Senate took a step toward initiating an Arizona-style "audit" of the 2020 election results when they voted Wednesday to authorize subpoenas for personal information on every voterRead in The Hill: 
https://apple.news/AHzvXQETHTYCuq44WhYwLzg
WE NEED YOUR SUPPORT!
Pennsylvania will be center stage in the 2022 battle for the U.S. Senate, when voters will decide who will succeed Republican Senator Pat Toomey.
Having announced his retirement, Toomey is one of 34 senators across the country whose seat will be contested in 2022.  His seat, however, is one of only two seats considered by many as a "toss up," the other being in North Carolina where Republican Senator Richard Burr is also retiring.  As such, with the U.S. Senate currently split equally between Democrats and Republicans, the chance to elect a Democrat to fill Toomey's seat presents a golden opportunity for the Democratic Party, and the outcome will be a critical factor in President Biden being able to advance his political policies and agenda.
In order to be prepared for what will undoubtedly be a long and highly-contested senatorial campaign, the USC Democratic Committee has announced a $10,000 fundraising goal to make certain that the committee has the needed resources to present its case to township residents via letters, flyers, and other means of information dissemination.  The money raised will go toward the printing and mailing of campaign literature to help galvanize support for Pennsylvania's Democratic senatorial candidate.
"We've had excellent results in the past with volunteers personally printing and dropping off literature to residents' homes and/or personally paying for the printing and mailing of such literature," said Upper St. Clair Committee Chair Mary McIntyre. "We are hoping that with this fundraising campaign we can recruit more volunteers and donors to help us expand our informational efforts going forward.  If every Democrat in USC would simply donate $10, we could guarantee that we would have enough money to do our part in electing a Democrat to replace Senator Toomey in 2022."
Please help us meet our fundraising goals and make plans to attend our September 12th picnic fundraiser at South Park.
Donate Now!
Voting rights are increasingly under attack throughout the country, and those attacks are attacks on our democracy. It is time to rally to support the Senate's S1 legislation, which protects voting rights (see below for three rally locations this Friday, 7/2), and it is time to contact Senators Toomey and Casey to urge them to support voting rights and S1.
Voting is the linchpin of democracy and is arguably our most important right, for as Thomas Paine said, "[t]he right of voting for representatives is the primary right by which other rights are protected." Disturbingly, GOP legislators and governors in many states are accelerating their attacks on voting rights. These attacks must be stopped, and the clearest way to parry them and ensure Americans' precious voting rights is to pass S1 (the Senate's companion bill to the House's already-passed HR1 legislation).
Please call or write Senator Toomey and urge him to support S1. We are confident that Senator Casey will support S1, but please call or write him to let him know how important S1 is. And also urge him to eliminate (or "defang") the filibuster, as that will most likely be necessary to pass S1 and the rest of President Biden's agenda.
Contact Information for Senator Toomey: Phone: Pittsburgh: 412-803-3501, DC: 202-224-4254
Website | Facebook | Twitter | Email
Contact Information for Senator Casey: Phone: (202) 224-6324
Website | Facebook | Twitter | Instagram
And please join us and our many progressive allies at one of the three rallies this Friday, 7/2 to support voting rights!