JOIN THE FIGHT!
Upper St. Clair Democratic Committee
Next USC Democratic Committee Meeting
Due to the current spike in new cases of COVID 19 in Allegheny County, the June 23rd meeting of the Upper St. Democratic Committee has been rescheduled as a Zoom meeting. If you are interested in receiving an invitation to the meeting, please contact Mary McIntyre at maryfmcintyre56@gmail.com.
Great Job USC Democrats!
The primary election held on June 2 was in many ways a test drive for the new voting system that was implemented this year by Governor Wolf. Among the many changes, the new law allowed for no-reason mail-in voting in Pennsylvania.
The Upper St. Clair Democratic Committee conducted an aggressive campaign to encourage Democratic voters in the township to apply for a mail-in ballot and our efforts paid off.  80% of the USC Democrats that voted in the primary did so by a mail-in ballot, as compared to only 21% of the township Republicans.
However, if we are to change the direction of the country, our work is just beginning. In the next few months, the USC Democratic Committee will be reaching out to those Democrats and Independents who have not applied for a mail-in ballot, and We Need Your Help!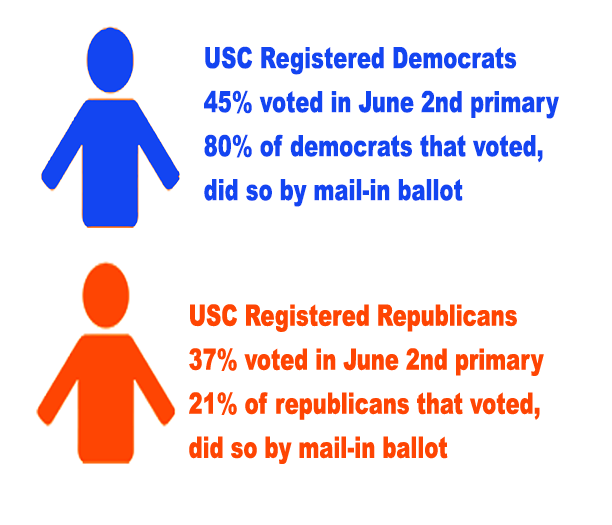 How Can I Be Certain That My Mail-In Vote Was Received?
You can check to see if your mail-in ballot was received and recorded by visiting the website: www.votespa.com/county or by calling the Allegheny County Elections Department at (412)350-4500.